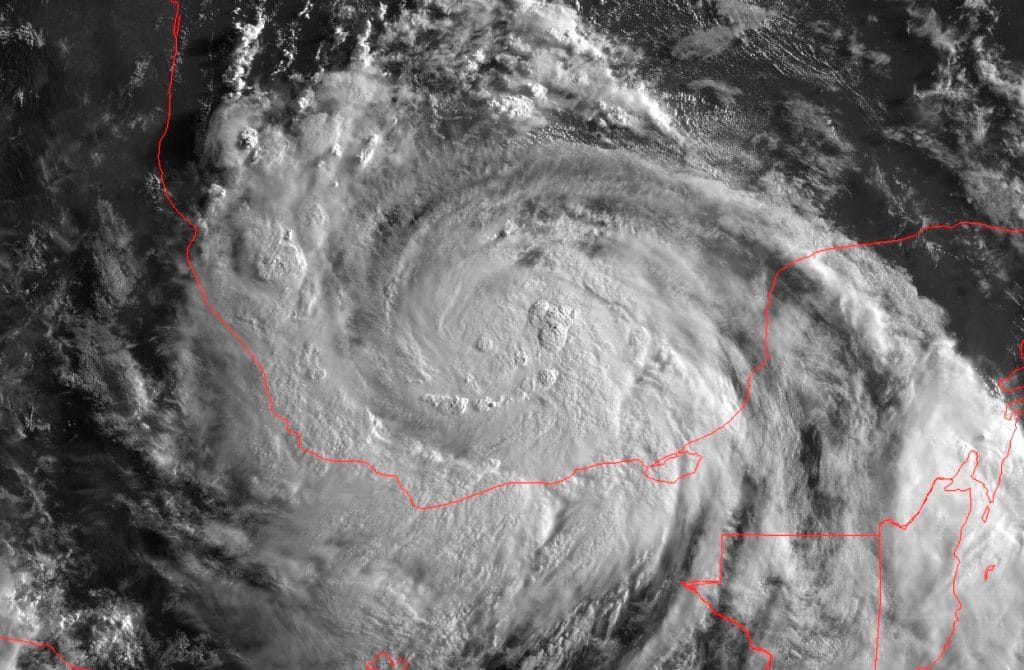 After passing over Mexico's Yucatan Peninsula on Tuesday, Tropical Storm Franklin has steadily intensified over the Bay of Campeche and is on the brink of becoming 2017's first hurricane in the Atlantic basin.
The storm, packing winds of 70 mph, is on a collision course with Mexico's east coast, south of Texas. Riding over warm water, it is expected to make landfall Wednesday night as a hurricane containing peak winds up to 85 mph.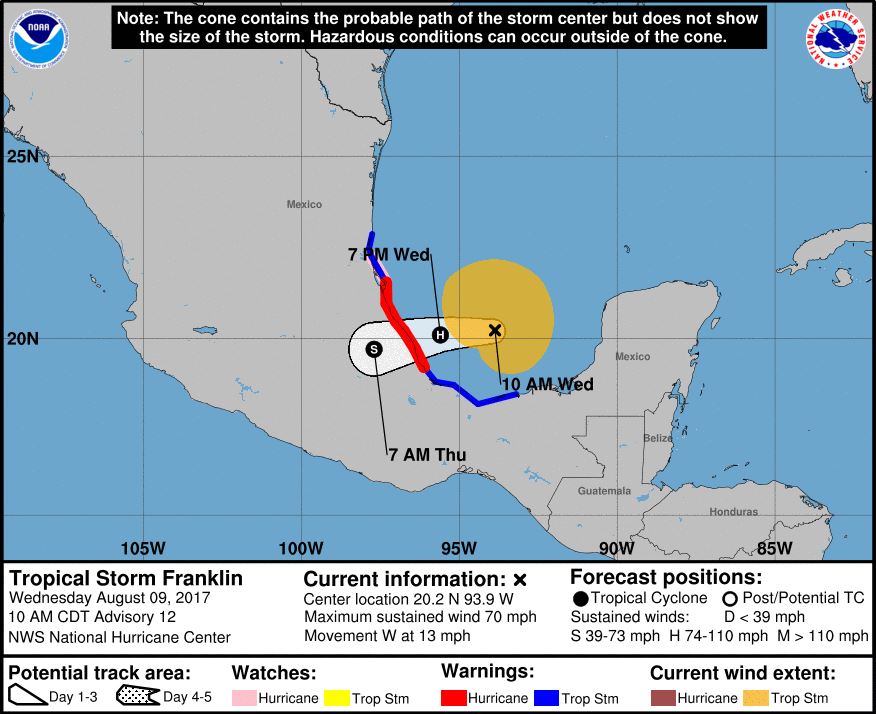 Track forecast and watches/warnings for Tropical Storm Franklin. (National Hurricane Center)
Hurricane warnings are in effect from Puerto de Veracruz to Cabo Rojo. Fortunately, the section of coastline that will be hit the hardest is quite rural and unpopulated, but life-threatening flash flooding and mudslides from the rain will affect a large area. Rainfall totals of four to eight inches could be seen in the hurricane warning area, with isolated amounts up to 15 inches.
Near and north of where the center crosses the coastline, a storm surge or rise in water level of four to six feet above normal tide levels is possible.
Damaging winds are also likely. Tropical-storm-force winds extend about 140 miles northward from the center and up to 70 miles on the south side of the storm.
The storm is being carefully monitored. Three aircraft from three agencies are conducting investigation. The Air Force C-130 is flying in and out of the inner core, as is the National Oceanic and Atmospheric Administration P-3. In addition, NASA's unmanned Global Hawk is flying high above the storm. Data collected from these missions are fed into weather models and help forecasters assess the intensity and structure of the cyclone.
Franklin first made landfall on Mexico's Yucatan Peninsula about 85 miles south of Cozumel early Tuesday, then lost very little organization as it tracked over the flat peninsula.
A half-foot of rain fell in 12 hours over Campeche on the Yucatan's west coast, as Franklin cut across, resulting in flooding:
Since 1851, 23 storms have crossed the peninsula and emerged in the Bay of Campeche. Fifteen of them became hurricanes. The most recent hurricane landfall there was Karl, on Sept. 17, 2010, as a Category 3 storm on the 1-to-5 Saffir-Simpson scale.
Map of 23 storms that crossed the Yucatan peninsula and remained within the Bay of Campeche since 1851.
Should Franklin become a hurricane, it would come very close to the Aug. 16 average date of first hurricane formation.
Separately, we are also tracking a disturbance in the deep tropics approaching the Leeward Islands. It is not likely to develop soon but could become a feature of interest by later this weekend when it is north of the Bahamas.
If it becomes a tropical storm or hurricane, most models keep it just off the East Coast but close enough that residents should keep an eye on it. At the very least, it may generate heavy surf at the beaches next week.
As forecasters monitor all of this tropical activity, NOAA announced Wednesday that it has increased its outlook for the number of storms expected this hurricane season. It is now predicting 14 to 19 named storms, five to nine of which will become hurricanes, and two to five major hurricanes. Previously, it was calling for 11 to 17 storms.
"The season has the potential to be extremely active, and could be the most active since 2010," the agency said.