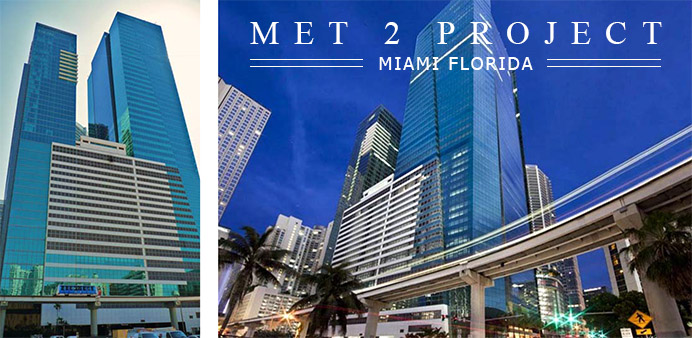 Services Provided By GCI Consultants
GCI Consultants, LLC was retained by Suffolk Construction Company to provide quality control services of the glazing systems at the Met 2 project in Miami, FL. The Met 2 is part of the Metropolitan Miami complex and includes a 46-story financial tower, known today as the Wells Fargo Center, linked to a 42-story Marquis tower, a JW Marriott Collection hotel. The project obtained LEED Gold certification from the United States Green Building Council.
GCI provided quality control services for the glazing systems in the 46-story, 700,000 sq. ft., Wells Fargo Center tower, which comprises a unitized curtain wall system totaling 7,000 glazed units and 420,000 sq. ft. of glass. Specific services included inspections conducted at the curtain wall manufacturing plant, witnessing of field water infiltration testing and the associated reporting of these activities.
Contact GCI to manage your construction quality control procedures for the exterior building envelope systems of your next development project.
---
Founded in 1988, GCI is a consulting firm that specializes in the exterior building envelope. The GCI team includes experts in windows and doors, wall systems, roofing and waterproofing. All consultants are highly-trained specialists who work closely with clients to protect their interests and help provide cost-effective results. Our services include design assistance, investigation of building envelope problems, development of repair solutions, field water infiltration testing, quality control services, codes and standards consulting and expert witness and litigation assistance.
---